Expert's Advice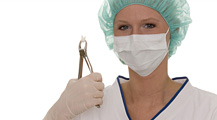 Heart Disease
Natural ways to prevent heart disease
Herbs such as Crataegus oxyacantha (Hawthorn), Passiflora incarnate, Viburnum opulus and Ginkgo biloba have been widely used to promote heart health and support the recovery of heart-related diseases.
My Family Has A History Of Heart Disease, But I Am Very Active And My Kids Play Sports. Do We Still Need To Be Concerned?
Main features provided in the site for free are -
Users can view Your profile and book appointments with you for Your Clinic and Your visiting Hospitals.

✔




You will receive a SMS when a user books an appointment with you.User will also receive a SMS with Appointment and Clinic details.

✔




Your receptionist too can block appointments using the site.

✔




You can maintain patients history. You can easily refer to the problems and medicines prescribed to a patient in the past.

✔




You can print prescriptions and also SMS prescriptions to patients.

✔




Registration on our site will increase the flow of patients to you.

✔
FREQUENTLY ASKED QUESTIONS
Can Appointments be booked on mobile phone ?
Yes Appointments can be booked using our website or android app on mobile phones also.
Do the Doctors have to approve the appointment requests received ?
In case the Doctor has hired our services for handling Appointments He need not do anything.But if the Doctor is handling Appointments all by himself he needs to approve or reschedule them ASAP.
Can Doctors check the Appointments on the fly ?
Yes. Doctors can check the Appointments on the fly using our mobile App. Doctor need to Login in the app using the same mobile number provided at the time of registration to check the appointments. Only Approved appointments will be listed.
Doctor - How do I register on the site ?
Please enter your Name(First Name + Last Name), mobile no. and email id and click on Sign Up. You will receive an email and SMS with your password. Login using the emaild id as userid and password and enter your Information using Update Your Profile and you will be registered on the site.
Optionally please click on link "Register Now", fill up all your Info in the small form and click on Submit. You will receive an email and SMS with your password.
In either case Login and upload your passport size photo of size less than 500 KB. Done !!! your profile will now be visible to the users.
Doctor - How can I do the payment on the site ?
For Doctors, there is no registration charge. But if the Doctor wants his profile to be advertised using Digital Marketing or He wants to hire our services for handling Appointments He can make the applicable payment by IMPS or NEFT to the Bank Account Details provided by us. He can also do Paytm or GPay to 9850057851 (Ajay Kalantri) or PhonePe to UPI ID 9850057851@ybl. For Hospitals payment will be offline. Hopsitals profile will be visible after it is activated. It will be activated after Payment is received offline.
How much is the registration fee for Hospitals and Patients ?
There will be registration charges applicable to Hospitals decided as per our policy.
There is no registration fee for patients. Patients can book appoinments for free. Registration is not required to book Appointmnets.
How do I specify my schedule in different hospitals and Clinic ?
After Registration, for your time table in your visiting Hospitals or secondary clinics to reflect, you must update your timings for Clinic/Hospital using "Hospital Schedule"/"My Visiting Hospital Timings" screen. The latest version updated by you will reflect. Your primary clinic timings can be speciified while registering yourself.
Can I register my Hospital ?
Yes. While Signing Up there is an option Hospital in the dropdown. Once Registered, Users can view your Hospital profile, Website and all Doctors in your Hospital. They can even book appointments with the Doctors in your Hospital.
Is there any charge for patients in booking the Appointments ?
There is no charge for patients while booking the appointments. Its absolutely free.
Is there facility of SMS on the site ?
Whenever a patient books an appointment he receives a SMS. Also the doctor receives a SMS whenever an appointment is booked on the mobile number provided at the time of registration.
Can I stop my subscription mid-way ?
No once subscribed you cannot stop the subscription for a given plan.
How can the doctors detach a hospital ?
Doctors please click on the Icon "List of Your Attached Hospitals". Then to detach a visiting hospital please select the hospital by clicking on the any of the check box of that hospital and click the "Dettach Hosp" button.
Doctors : I don't find the Hospital to which I want to attach myself in dropdowns in Hospital Schedule Screen ?
Please select the option "Other" in the dropdown. Please enter the name and address of your visiting Hospital.
Doctors : Are there any registration charges for Doctors ?
There are no registration charges for Doctors. After registration by Doctor users will be able to view the Doctor's profile and book appointments for free. Doctors should ask their patients to start booking appointments with them using BDT. Also Doctors can also use must have features provided in the site for free forever like Booking Appointments with both Clinics and Visiting Hospitals,Appointment Approving and rescheduling, Maintaining patients history, PRINTING prescriptions. All features are built-in with SMS facility. The site is very user friendly.
Doctors can extend their reach by taking our Trial Plan @INR 999/- validity 3 months or Standard Plan @INR 2999/- validity 6 months or Professional Plan @INR 5999/- validity 1 year. We will extend the Doctors reach to entire city using Digital Marketing.
Cross Browser Compatibility : Is the website visible in all the browsers like Firefox, Google Chrome, Opera, Internet Explorer etc. ?
Yes. The site is visible in all the browsers. The site BDT is also responsive meaning it can be accessed using PCs, Laptops, Mobile phones and Tabs. The site doc.bookdoctorstime.com can be accessed using only PCs and Laptops as of now.
For any problem, ideas, feedback and suggestions please contact us at -

Ph: 020-25883400, Mobile : 9850057851 or mail to below email address

ajaykalantri@bookdoctorstime.com.